HVAC Technician Training Programs in California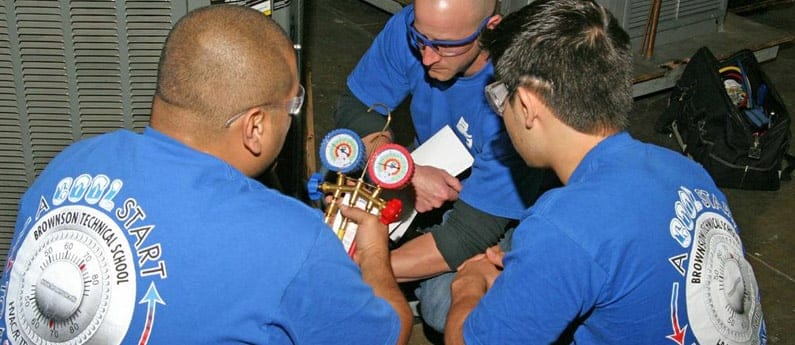 Hands-on Training. Inspired Instruction. Practical Experience.
If you prefer being active and working with your hands and you're looking to get established in a rewarding career with a future, training as a Heating, Ventilation, Air Conditioning and Refrigeration Technician could be a great opportunity.
Brownson Technical Institute has been training HVAC Technicians for over 30 years. The focused HVAC Technician training will prepare you to make a seamless transition into the industry not only with the valued skills as a certified HVAC technician but also with industry connections and relationships you'll build while you are here.
Train Hands-On in a Working HVAC/R Shop
Regardless of the flexible HVAC class schedule you choose, as a Brownson student you'll complete your hands-on training in our 12,000 sq. ft HVAC/R working shop, filled with hundreds of pieces of industry-standard equipment you'll encounter on the job.
With almost 60% of our facility dedicated to our practical workshops, things aren't always as orderly as a tidy row of classroom desks – but you're not learning how to sit in class, you're learning how to troubleshoot, maintain, and repair the equipment people rely on.
HVAC/R is all we teach.
Brownson Technical School has been helping motivated individuals get the technical training, real world experience and industry support it takes to pursue rewarding HVAC technician careers.
We've helped thousands of people to create bright futures for themselves and their families through rewarding careers in Heating, Ventilation, Air Conditioning, Refrigeration and Digital Direct Control.
Flexible HVAC Training
We know everyone has different scheduling and learning needs. That's why we offer 3 different program models:
HVAC SCHOOL FULL TIME – ON CAMPUS
HVAC SCHOOL ONLINE TRAINING & IN-SHOP WORKSHOPS
Saturday Blended Program – Coming Soon
Classes are now forming for a Saturday Blended Program. Saturday Blended Classes will only meet at the school campus located in Anaheim, CA. on Saturdays from 7:00 am to 8:00 pm. 40 weeks is the scheduled length.
Get the Skills without Interrupting Your Life
No matter what schedule or learning format you choose, you'll receive the same high-quality HVAC Technician training. Successful graduates of each of these HVAC technician school options enter the industry as well-rounded, qualified professionals.
After completing the HVAC Technician training you'll be fully prepared to perform all necessary duties expected of Air Conditioning, Heating, Ventilation & Refrigeration Technicians, including:
Diagnose, Troubleshoot, Service and Repair
Installation of New Systems
Hand's on experience with various equipment technologies
Utilizing direct digital controls (DDC)
Accessing Building Performance
Professionalism and business management
DDC and Building Performance are among the fastest growing segments of the HVAC/R industry today.
Nationally Recognized Certification
Brownson Technical School has authorized personnel to proctor Section 608 (EPA) testing as well as NATE (North American Technician Excellence) and HVAC Excellence certification testing.
Section 608 is necessary to work in the HVAC industry in all 50 States as well as all US protectorates and military bases outside of the US.
As a student of this program you'll become certified for refrigerant handling through the EPA Section 608 testing program. On-site testing is included as part of this program.
While not currently required by law, we are also an authorized testing site for NATE (North America Technician Excellence) and HVAC Excellence certification. These certifications can help to set you apart in the field. Learn more about certification preparation and testing at Brownson here.
Apprenticeships
Each program format is accepted as meeting the formal education requirements to proceed in the apprenticeship selection process at the Air Conditioning and Refrigeration Joint Journeymen Apprentice Training Center.
Green Energy Training
Energy reduction is one of the biggest shifts in today's HVAC/R industry. As California moves toward "net-zero" energy usage for new homes and businesses, the focus is on bringing existing buildings up to energy efficiency standards.
Always ahead of industry trends, the Brownson Tech HVACR Programs cover comprehensive energy reduction training, including skills in the following areas:
Thermal Imagery
Air Side Work
Ductwork Design and Testing
The ability to service and maintain modern, energy-efficient equipment in a sustainable way is a skill that consumers and employers are coming to expect.
Not Sure Which Program is Right For You? We Can Help!
If you're interested in learning more about careers in HVAC/R and exploring whether this is the right career path for you, fill out the form on this page to receive more information. A helpful Brownson Tech Admissions Representative would be happy to answer any questions you have and help with everything from scheduling to financial aid.
Or come see for yourself –  Book a Tour and get a feel for what it's like to be an HVAC trade technician and see if BTS is right for you.
For immediate questions, give us a call at 714-774-9443.