HVAC Technician School Programs in Anaheim, California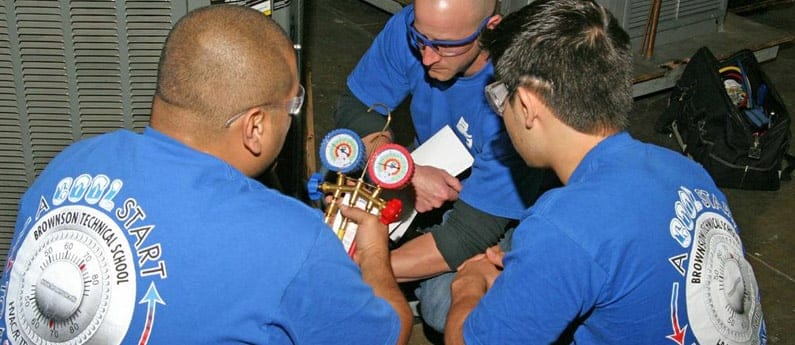 1040 Hour Hands-on Training by HVAC Excellence Certified Subject Experts
With focused hands-on HVAC Technician training, you'll be prepared to make a seamless transition into the HVAC industry with the valued skills employers are looking for.
As a certified HVAC technician with real-world experience in DDC controls, building performance, refrigeration, and the latest air conditioning technologies,  you'll be ready to take on the variety of challenges HVAC professionals face everyday.
With over 30 years in HVAC training, we are passionate about providing the most in-depth training so you can excel as an HVAC technician.
Becoming a Skilled HVAC/R Technician in as Little as 10 Months
At Brownson, learning is active. Students get hands-on experience in our fully equipped 12,000 sq. ft  shop with heating, air conditioning and refrigeration labs, filled with hundreds of pieces of industry-standard equipment you'll encounter on the job.
Nearly 60% of our 20,000 square foot facility is dedicated to our practical workshops, with classes being led by certified subject matter experts with years of experience in the field, so you get the real skills today's employers demand.
The Brownson HVAC/R Technician Program is broken up into 8 modules:
Basic Thermodynamics, Refrigeration, and Copper Works
EPA and Electrical
Safety, Customer Service, and basic HVAC/R Competency Review
Commercial Refrigeration
Residential and light Commercial Air Conditioning and Gas Heat
Controls, Heat Pumps, and Ice Machines
DDC Technologies

Building Performance
Each module is taught by a dedicated instructor who has specific industry experience in the area they teach. You'll benefit from the experience and insight of a team of professionals, all with specialized expertise to share.
Bright Career Outlook
The expected growth in the industry for California is almost 32% through to 2024 [Source]*. A big driver for this demand is the retirement of many experienced workers over the next decade. Now is an excellent time to be starting!
As green technologies rise. the demand for building and maintaining energy efficient HVAC & refrigeration systems has also increased the need for skilled HVAC, AC, and Refrigeration mechanics and installers. [source]*
Get the Skills without Interrupting Your Life
No matter what schedule or learning format you choose, you'll receive the same high-quality HVAC Technician training leading employers have come to rely on.
Our HVAC programs are designed to offer the quickest path towards becoming an HVAC technician while allowing balance in your busy life.  We provide 3 different HVAC program models for those beginning in HVAC and those already in the industry pursuing certification:
On-Campus HVAC Program
40 Weeks* Full-Time: Monday – Thursday 8:00 am to 2:30 pm
 88 Weeks* Part-Time (evenings): Monday – Wednesday 6:00 pm to 10:00 pm
Blended Online & On-Campus HVAC Program
40 Weeks*   On-Campus shop classes with classroom portion online:  On-campus schedule: Monday, Tuesday & Wednesday, 5:40 p.m. – 10:00 p.m.
For the online blended program it is helpful to have previous HVAC experience.   The classroom portion of the program requires some prior technical knowledge.  Contact admissions to learn more about this training format and if it is the best fit for you.
After completing the HVAC Technician training you'll be fully prepared to perform all necessary duties expected of Air Conditioning, Heating, Ventilation & Refrigeration Technicians, including:
Diagnose, Troubleshoot, Service and Repair
Installation of New Systems
Hand's on experience with various equipment technologies
Utilizing direct digital controls (DDC)
Accessing Building Performance
Professionalism and business management
DDC and Building Performance are among the fastest growing segments of the HVAC/R industry today and Brownson is the ONLY school that offers this training as part of HVAC program.
The fun, online quiz takes 3 minutes to complete and you'll get a personalized report. Identify your strengths and social style plus the training and positions you're best suited for. Get Your HVAC/R Training Readiness score now.
Nationally Recognized Certification
Our Anaheim campus is one of the largest authorized HVAC Certification testing centers in Southern California.  We provide certification testing for:
Section 608 (EPA)*
NATE (North American Technician Excellence)
HVAC Excellence certification
Section 608 is necessary to work in the HVAC industry in all 50 States as well as all US protectorates and military bases outside of the US.
As a student of this program you'll become certified for refrigerant handling through the EPA Section 608 testing program. *On-site testing is included as part of this program.
Apprenticeships
Each program format is accepted as meeting the formal education requirements to proceed in the apprenticeship selection process at the Air Conditioning and Refrigeration Joint Journeymen Apprentice Training Center.
Green Energy Training
Energy reduction is one of the biggest shifts in today's HVAC/R industry. As California moves toward "net-zero" energy usage for new homes and businesses, the focus is on bringing existing buildings up to energy efficiency standards.
Always ahead of industry trends, the Brownson Tech HVACR Programs cover comprehensive energy reduction training, including skills in the following areas:
Thermal Imagery
Air Side Work
Ductwork Design and Testing
The ability to service and maintain modern, energy-efficient equipment in a sustainable way is a skill that consumers and employers are coming to expect.
Take the Next Step.  Get More Information.
See if Brownson Technical School is right for you.  You can fill out the form on this page to receive more information,  call 714-774-9443 or text 714-774-9443
A helpful Brownson Admissions Representative will be happy to answer any questions you have.
Or come see for yourself –  Book a Tour and see first hand if BTS is right for you.
Consumer Information