Get the Skills to Be an HVAC Technician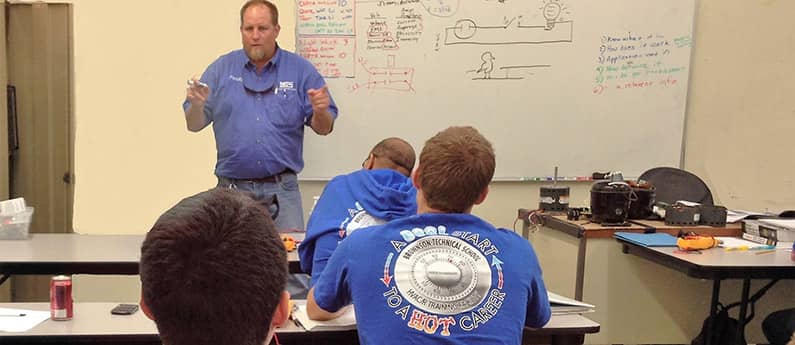 10 Month* Air Conditioning, Heating, Refrigeration & DDC and Building Automation Trade School in Anaheim, CA
Proper heating, air conditioning, ventilation and refrigeration are a must for homes and businesses. That means there's a steady need for HVAC/R Mechanics and Installers to maintain, set up and repair those systems we rely on.
If you enjoy working with your hands and are looking for technical career with a future, you could be well-suited to succeed as an HVAC Technician.
Becoming a Skilled HVAC Professional
The HVAC/R Technician trade program from Brownson Technical School (BTS) provides the hands-on training, practical experience and industry support it takes to pursue a rewarding career in this field.
The 12,000 square foot BTS training facility allows students to learn-by-doing. As a BTS student, you'll learn hands-on in functioning workshops. Due to the technical nature of the work, some time does need to be spent on theory/classroom.
Brownson also offers a convenient Blended Learning option for those students who wish to complete the classroom portion completely online.
This program meets the requirements for "pre-apprenticeship" training for UA Local 250. That means that as a BTS graduate, you're qualified to directly enter the Local 250 Apprenticeship training program as an Apprentice 1.
The full-time program can be completed in 40 weeks*
The part-time evening program can be completed in 88 weeks*
Courses
Basic Thermodynamics, Refrigeration, and Copper Works
Electrical
Safety, Customer Service, and basic HVAC/R Competency Review
Residential and light Commercial Air Conditioning and Gas Heat
Commercial Refrigeration
EPA, Heat Pumps, and Ice Machines
DDC and Building Automation
Building Performance
Each module is taught by a dedicated instructor who has specific industry experience in the area they teach. You'll benefit from the experience and insight of a team of professionals, all with specialized expertise to share.
Number 1 HVAC & Refrigeration school in California. The instructors are there to really help you understand anything you are having difficulty with.

Daniel Earl Webb – Brownson Graduate
Unlike some HVAC schools where students start with whatever course is being taught when they enroll, at Brownson, students move through modules 1-8, in sequential order. The program is specifically designed to help you continuously build on your skills.
By the end of this program, you'll feel fully prepared to work as a certified technician.

The fun, online quiz takes 3-minutes to complete and you'll get a personalized report. Identify your strengths and social style plus the training and positions you're best suited for. Get Your HVAC/R Training Readiness score now.
National Certification
As a Brownson graduate you'll be fully prepared for EPA/Section 608 testing, which is provided on-site as part of the program, as well as NATE (North America Technician Excellence) testing. Section 608 is necessary to work in the HVAC industry in all 50 States as well as all US protectorates and military bases outside of the US.
I have the perfect job and I love it! I'm making great money, have a company vehicle and good benefits! I've never been the type of student to just read and study material. I need to be able to actually practice on equipment, and the school provided me with plenty of hands-on training in the lab.

Colt Buranatt, Graduate
Get the Support You Need to Launch a Successful Career
HVAC training isn't about getting a diploma – it's about getting a good job. While employment can not be guaranteed, we place an enormous importance on Career Placement Assistance. We're dedicated to helping graduates start meaningful careers and support themselves and their families.
Financial Aid is available to those who qualify.
Is a Career as an HVAC/R Technician Right for You? Get More Info…
If you're interested in learning more about careers in HVAC/R and exploring whether this is the right career path for you, fill out the form on this page to receive more information. A helpful Brownson Tech Admissions Representative would be happy to answer any questions you have and help with everything from scheduling to financial aid.
Or come see for yourself –  Book a Tour and get a feel for what it's like to be an HVAC trade technician and see if BTS is right for you.
For immediate questions, give us a call at 1-877-457-5302.
Gainful Employment Disclosures – HVAC/R Technology 40 Week Program
Gainful Employment Disclosures – HVAC/R Technology 88 Week Program
*10 month program length when completed in normal time.