Brownson Technical School FAQ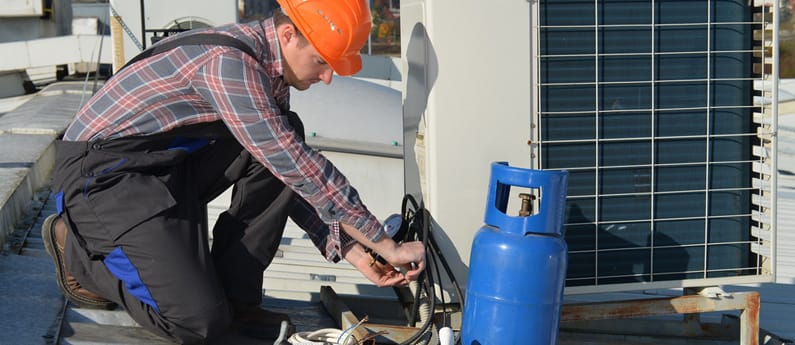 How Can We Help?
Choosing a new career is an exciting time! We're sure you have plenty of things to ask as you continue your research. We have put together a list of the most frequently asked questions that potential new students ask when they are considering HVAC training. If you have a question that is not on this list, feel free to contact us.
How do I know I'll get all the relevant hands-on training I need?
You need to be able to handle many situations out in the field – this can mean repairing units that were installed 20 to 30 years ago, or installing one manufactured 30 days ago.
Our well-equipped 12,000 ft2 shop gives you lots of hands-on training with current technologies, new equipment and older model equipment – just like what is found in the field. We also have an off-site, 1700 ft2 testing facility (a whole house!) where you'll actually get to measure and monitor air flow, perform thermal imaging, and both whole house pressurization as well as duct pressurization testing, all of which have a dramatic effect on energy usage. Not only do you get to know how to work on the HVAC systems, you get to see how the structure (envelope) effects the operation of this equipment. It's not just theory here – you get to work with everything related to heating and cooling.
Are there really open job opportunities in HVAC?
The expected growth in industry for California is almost 32% through to 2024 [Source]*. A big driver for this demand is the retirement of many experienced workers over the next decade. Now is an excellent time to be starting!
What makes Brownson's program so different? Why would I come to your school instead of another?
Brownson Technical Schools' 1040 hour curriculum is 320 hours more than most training programs. (The average program is 720 hours.) In addition, we take you to the next level: we're the only school that offers DDC (Direct Digital Controls – computerized controls for industrial, commercial, and increasingly home installations) PLUS building performance training for energy management and efficiency as it relates to the envelope (structure) being conditioned. This relates back to Title 24 – the California energy codes. Employers are grateful for the extra knowledge and training. By the time that training is completed, you will be EPA (Section 608) certified and have taken NATE testing and HVAC Excellence employment ready certification tests are available as well. Next, our instructors are certified Subject Matter Experts with years of experience behind everything they teach. A number of the instructors have achieved Master Certified HVAC Educator (MCHE) which is the highest certification offered by HVAC Excellence. There are only around 100 MCHEs in North America. No matter the question you ask, they'll know how to answer!
You are a private, for profit school – how are you different than the recent for-profit school closures? How do I know you're not going to just close up one day?
We completely understand why this could make someone nervous—there have been a lot of awful situations in the news lately. We know we need to earn your trust and once earned, work on keeping it. We are a family-run business, not a publicly-traded school on the stock market. We feel that there is a fundamental difference in the way these schools operate. There is no preoccupation with the price of the stock – since it isn't for sale. We've been teaching HVAC professionals for over 30 years and are well-established in the community as caring for our students and employers that hire them. We are passionate about their success. Brownson is here to stay. We also don't accept everyone that applies to our school—we want to ensure those who enroll can complete the training and find meaningful employment and a career in HVAC. That's our mission – to make a positive change in someone's life through (HVAC) vocational education. That is best achieved we feel, by offering excellence as an educational institution. This is done by a commitment to a competency-based approach to teaching. We feel that if a rigorous competency-based curriculum is provided to our students, our graduates will pursue the same level of excellence as they progress through their career.
Is starting an HVAC career worth it? Will I really be able to make a livable wage?
From the EDD/LMID Occupational Employment Statistics Survey, 2016, upon graduation you can expect an average starting wage to be $18.43/hr. (Wages do not reflect self-employment). This means starting at an annual salary of $38,330! As you gain experience, the potential raises to an average of $65,171 per year. A great outlook for your future.
There is no way I can go to school full time. Now what?
We understand that not everyone has the luxury to focus only on full-time school. To help, we have both Full Time day classes and Part Time evening training. For professionals already working in the industry but who want to become a certified technician, we have accelerated Blended/Online classroom training with weekend/evening in-shop classes for the hands-on portion of the program. Talk to us – let's see how we can make it work!
Graduating is great, but how do your graduates do with finding employment in the HVAC industry?
We are more than proud to say that for 2015 (most recent), 89% of graduates are working in HVAC within 1 year of graduation. When researching schools, be sure you ask about their placement rates. As part of being an accredited institution, we monitor and report our graduation rates every year. This information can be found on our site as well as any other school sites – generally under "consumer information" or "gainful employment" as it is a requirement to publish this information. We are proud of our graduates' success and we are among the top HVAC schools in California to have this high of a placement rate.
So does that mean you have job placement assistance?
Yes! We have a career services team that will work with you to prepare for employment. You will get support for resume building, coaching for interviews and we will help you connect with employers.
Are you accredited?
Yes! We are nationally institutionally accredited by ACCSC and have HVAC Excellence programmatic accreditation. Our Institution is 1 of only 2 private schools in California hold HVAC Excellence Accreditation. Learn more about HVAC Excellence here.
Do I need to be certified?
If you want to be an HVAC technician you need to be EPA section 608 certified, which is the minimum requirement in the US. We encourage you to also pursue both NATE and HVAC Excellence certification as it shows a higher level of aptitude and would give you a competitive advantage as well as set you up for advancement. We have many working professionals who come to Brownson for the NATE certification, which is considered the gold standard by some employers. HVAC Excellence is an even more rigorous level of certification and further displays graduates' advanced skills.
Is it possible to work for a union contractor after graduation?
Absolutely! Brownson Technical School has an articulation agreement with Local 250 (United Associates – UA) in Los Angeles. In addition, because of the HVAC Excellence accreditation, Local 250 (and likely all UA locals) will automatically take one year off of their 5 year apprenticeship program for all graduates of Brownson Technical School.
I'm ready to apply! What do I do?
We would love to meet you and welcome you to the school. Your first step is to contact us and speak to our friendly Admissions team.
I'm not sure yet if an HVAC career or going back to school is right for me.
We are here to help! We have a Quiz that will take you through the exact questions you need to ask before making this decision. At any time, you are always welcome to call or text the school at 714-774-9443 or to contact us to ask us anything to do about the programs, the future of the industry and certifications.