HVAC Online School Programs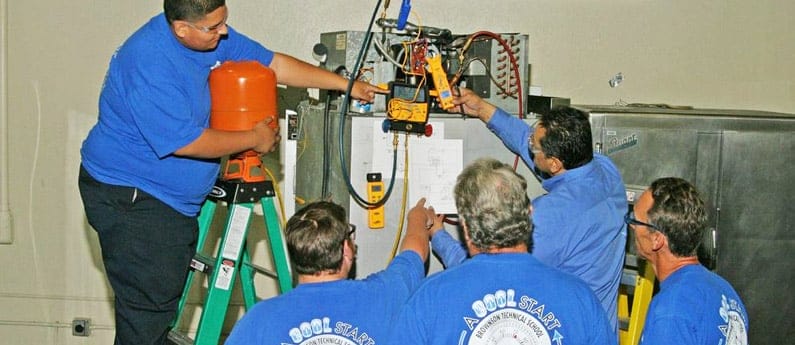 Get the Experience Beyond Certification with Online HVAC Training & In-shop Workshops
Already working in HVAC? Have some working knowledge with electronic components? Becoming a qualified HVAC/R Technician requires a combination of some classroom study and plenty of hands-on shop experience with the variety of equipment HVAC mechanics will come across on the job. The online program works best for professionals already working in the HVAC field, or similar, and want to advance their careers and become certified technicians.
Brownson created a blended learning option to allow more flexibility for students who need to maintain jobs or have other responsibilities while going to school where traditional on-campus programs may be a barrier to their education.
The HVAC online school portion of the program allows you to complete the classroom requirements on your own time, entirely online.
How Does It Work?
Students in the blended learning program will attend hands-on workshops in our 12,000 sq ft shop 13 hours per week; the classroom sections will be on their own schedule from the comfort of home (or anywhere with a computer and high speed Internet access).
Even though you're training online, you're far from on your own. Brownson's online HVAC students have continual access to instructor support and online learning resources
I'm very happy and proud to have Graduated from B.T.S . Unbelievable staff helpful in all areas... Highly recommend to whomever wants to join the A.C field. Thanks Brownson Tech School!
Hands-On Shop Training Schedules
Evening Option: Monday, Tuesday & Wednesday, 5:40 p.m. – 10:00 p.m.
The HVAC Online School training program option can be completed in 40 weeks.*
3 Benefits of HVAC Training Online
Blended Learning is a great option for individuals juggling work and family responsibilities, people who can't easily commute to campus every day, and individuals who have difficulty concentrating in a traditional classroom setting.
Save time & money on commuting
Set your own schedule
Learn at home or wherever and whatever time of day you want – as long as you stay on schedule
Online Learning can be an excellent option for a lot of people, but it isn't for everyone. Managing your Online Learning requires self-discipline and time management skills.
Comparing the BTS Program to other Online Schools
Many schools claim to offer a form of blended learning. When looking into online HVAC programs, be sure to check for 2 important things:
Does the program include enough opportunity for hands-on experience? While getting an online certificate is one step, you will need the hands-on experience to have the most opportunities to advance in the field.
Is the "online" portion really distance learning, or are there just some digitized resources?
We believe what we've developed at Brownson is truly unique in the HVAC/R field. A true, 50/50 blend of online and practical, hands-on training.
Courses
The Brownson HVAC/R Technician Program is broken up into 8 modules:
Basic Thermodynamics, Refrigeration, and Copper Works
Electrical
EPA, Safety, Customer Service, and basic HVAC/R Competency Review
Commercial Refrigeration
Residential and light Commercial Air Conditioning and Gas Heat
Controls, Heat Pumps, and Ice Machines
DDC and Building Automation
Building Performance
Each module is taught by a dedicated instructor who has specific industry experience in the area they teach. You'll benefit from the experience and insight of a team of professionals, all with specialized expertise to share.
Rather than starting at whatever course is being taught when you join in, like some other programs, Brownson students move through modules 1-8, in sequential order. The program has been specifically designed in this way to help you continuously build on your skills.
Upon successful completion of this program, you will feel fully prepared to work as a qualified technician.
Hear From One of Our Graduates
Nationally Recognized Certification
Students of this program are fully prepared for 608 (EPA). NATE (North American Technician Excellence) and HVAC Excellence testing is available.
Is Blended Learning Right For You? Get More Info…
If you're interested in learning more abut whether HVAC/R training at Brownson Technical Institute is right for you, fill out the form on this page to receive more information.
OR come see for yourself. Book a Tour of our facilities and see if both BTS and a career in HVAC is right for you.
To speak with an Admissions Rep right away, give us a call at 714-774-9443.
Consumer Information
For important information about the educational debt, earnings, and completion rates of students who attended this program, please click the links below.
*40 week program length when completed in normal time.