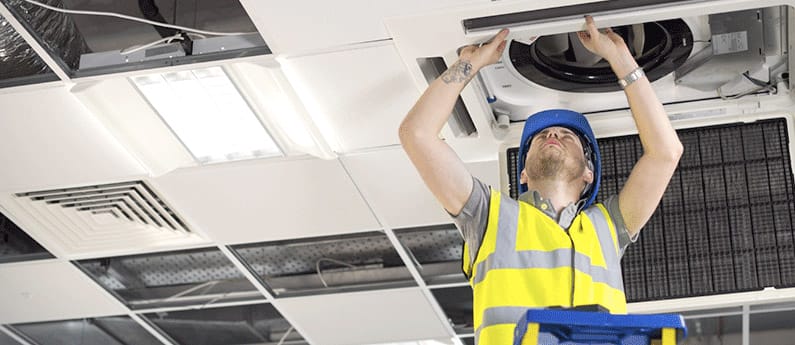 "I want to start my own business when I get out of HVAC School"
Graduates of a Vocational Training program (either Certificate or Degree) are expected to go to work for a properly licensed contractor.
Only a business entity is required to hold this license.  An individual working for a contractor needs at least an EPA Section 608 Refrigerant Handling certification.  Some states require state certification, but California doesn't.  So if you have your EPA Section 608 certification and a licensed contractor is willing to hire you, it would be legal to work in California in the HVAC/R industry.
Businesses located in California that sell, repair, or maintain HVAC or refrigeration equipment must have a valid contractors license issued by the Contractors State License Bureau http://cslb.ca.gov/.
Requirements for this licensure include a minimum of four years of experience as a journeyman within the field of HVAC or Commercial Refrigeration.  For the purpose of this license, a journeyman is a person that works independently without direct supervision.  For the purpose of the State CSLB, that happens four years after the worker goes out in their own service truck or similar situation, as determined by the CSLB.
To the Union, a journeyman is a worker that has been accepted into and then passed their Union Apprenticeship program, then the Journeyman test.  This usually takes at least four years to complete.
These terms are frequently confused.  Be sure to know which journeyman qualification a person is referring to – Union or qualification for a Contractors License.
That said, before all of that, a proper, formal education should be first and foremost prior to starting a business in any field. Skills to do the work and skills to run a business go hand in hand.
When a person goes to work for a contractor, they let the business owner worry about:
How to get the business
Follow the laws
Recruit and keep good workers
Pay the bills – and there are a LOT of bills to pay
Then you collect a paycheck on payday. If you want to be the boss, you must know how to do these things prior to collecting a paycheck for yourself (profits).