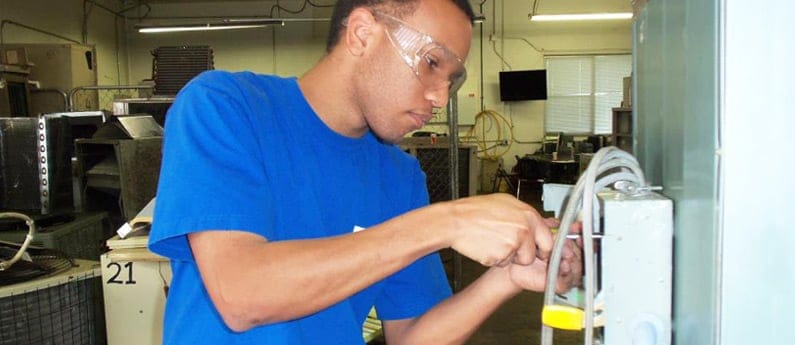 Stay Up-to-date With the Latest Developments in HVAC at Brownson Technical School in Anaheim, CA
As part of the DDC portion of our HVAC training program, students learn about the emerging field of Building Management Systems (BMS).
BMS is everywhere these days. Offices of all kinds are hooking up their HVAC installations to computer hardware and software to gain greater control over their HVAC systems.
This is especially true for energy usage. BMS allows businesses to modify their HVAC systems to be more or less active depending on the energy needs at that time.
With Brownson's BMS training, you get the skills to start servicing these clients right away.
And BMS installations aren't just limited to typical HVAC issues. BMS is expanding to include more and more business aspects, such as:
Disaster response control
Lighting control
PA systems
And security systems
Brownson's business management system training lets you get your foot in the door in this emerging field. With our hyper-connected future rapidly arriving—if not already here—we understand that our students need BMS skills to meet these challenges head-on.
A Growing Field – And Potentially Your Future Career
HVAC isn't just growing—it's booming. The California Development Department estimates that there will be a 31% increase in the demand for HVAC workers from 2014 to 2024.*
Your chance to start a new rewarding career is now. Take advantage of Brownson's flexible programs and start training right away. We offer both full-time and part-time programs that are also available in on-campus and blended online versions.
Curious About a Career in HVAC and BMS?
If you're interested in learning more about a career in HVAC and exploring if this is the career field for you, fill out the form on this page to receive more information.
A helpful Brownson Career Advisor will assist you with everything from career questions to financial aid and help you discover your perfect career path.
*http://www.labormarketinfo.edd.ca.gov/cgi/databrowsing/occExplorerQSDetails.asp?searchCriteria=Clerk&careerID=&menuChoice=occExplorer&geogArea=0601000000&soccode=499021&search=Explore+Occupation