Traditional Learning – HVAC/R Program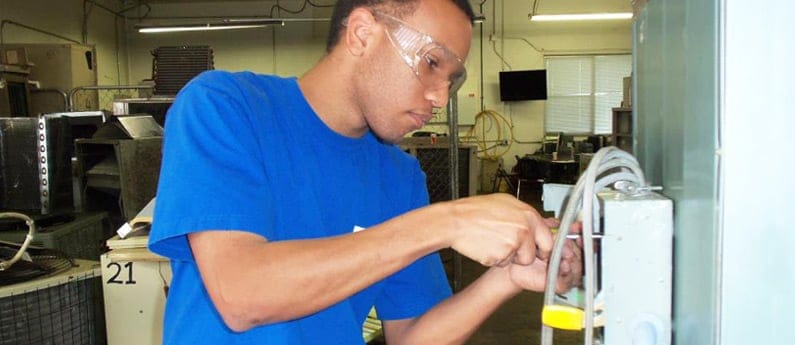 Get the Skills to Be a Professional HVAC/R Technician in 10 Months*
The on-campus program is ideal for individuals who appreciate the structure of a set school schedule and want to take advantage of in-person, on-site support during the classroom portion.
Schedule
Full-Time: Monday – Thursday 8:00 am to 2:30 pm – Can be completed in 40 Weeks*
Part-Time (evenings): Monday – Wednesday 6:00 pm to 10:00 pm – Can be completed in 88 Weeks*
Becoming a Skilled HVAC/R Technician
The Brownson HVAC/R Technician Program is broken up into 8 modules:
Basic Thermodynamics, Refrigeration, and Copper Works
EPA and Electrical
Safety, Customer Service, and basic HVAC/R Competency Review
Commercial Refrigeration
Residential and light Commercial Air Conditioning and Gas Heat
Controls, Heat Pumps, and Ice Machines
DDC and Building Automation
Building Performance
Each module is taught by a dedicated instructor who has specific industry experience in the area they teach. You'll benefit from the experience and insight of a team of professionals, all with specialized expertise to share.
Unlike some HVAC programs where students start with whatever course is being taught when they enroll, at Brownson, students move through modules 1-8, in sequential order.
The program is specifically designed to help you continuously build on your skills as well as build relationships and connections with your fellow classmates.   Even if you choose to take the classroom portion online, your hands-on workshops will be with the same group throughout the program.
By the end of this program, you'll feel fully prepared to work as a certified technician and have built a support network in the HVAC industry that could last a lifetime.
Nationally Recognized Certification
Students of this program are certified for Section 608 (EPA). NATE (North American Technician Excellence) and HVAC Excellence testing is available.
I'm making great money, have a company vehicle and good benefits! I've never been the type of student to just read and study material. I need to be able to actually practice on equipment, and the school provided me with plenty of hands-on-training in the lab.
Is the Traditional/On-Campus Learning HVAC/R Program Right for You?Get More Info…
If you're interested in learning more about HVAC/R training options, fill out the form on the side of this page to receive more information.
To speak with an Admissions Rep right away, give us a call at 714-774-9443.
For important information about the educational debt, earnings, and completion rates of students who attended this program, please click the links below.
* Program length when completed in normal time.